5 days morocco tour from tangier
BOOK YOUR 5 DAYS TOUR FROM TANGIER
5 DAYS MOROCCO DESERT TOUR FROM TANGIER
5 DAYS ITINERARY IN MOROCCO
5 DAYS MOROCCO TOUR FROM TANGIER
Embark on an unforgettable journey through the heart of Morocco with our 5-day tour from Tangier to Marrakesh via Meknes, Volubilis, Fes, Ifran, Merzouga, Todgha Gorges, Dades Gorges, Ouarzazate, and Ait Ben Haddou.
Experience the rich history and culture of Morocco as you visit ancient ruins, soaring mountains, stunning gorges, and traditional Berber villages. Indulge in the delicious local cuisine, stay in comfortable accommodations, and marvel at breathtaking landscapes along the way. Our expert guides will provide insightful commentary and ensure that you have a stress-free and enjoyable experience. This 5-day tour offers a perfect blend of adventure, relaxation, and cultural immersion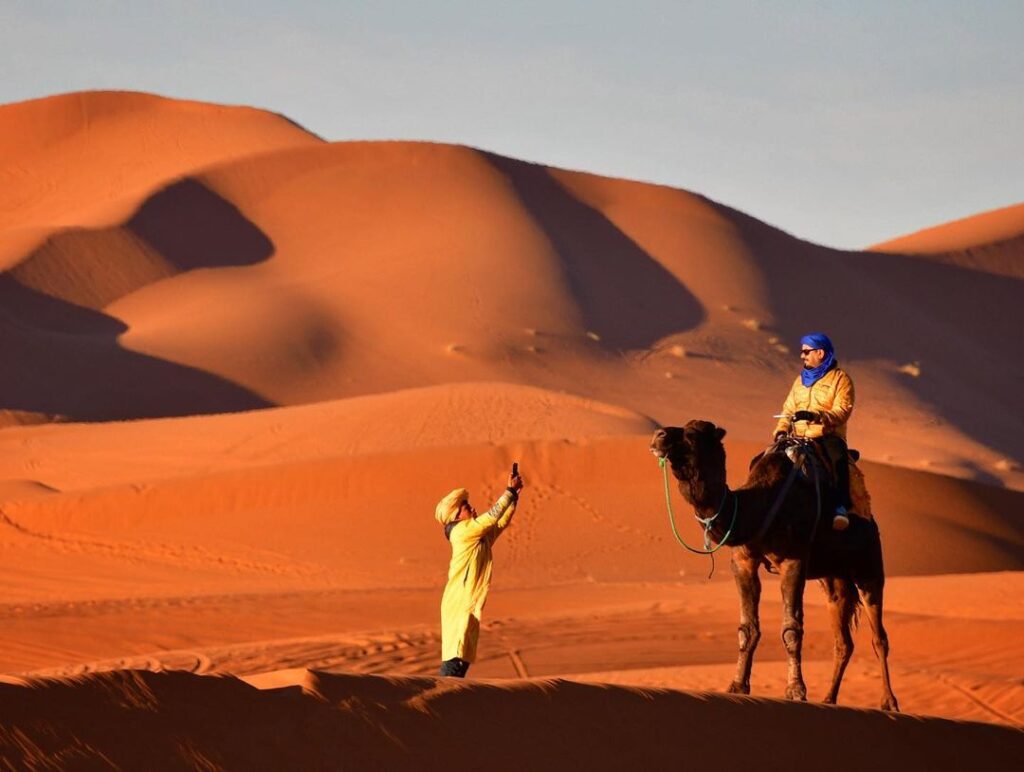 => TANGIER 5 DAYS TOUR ITINERARY
TANGIER TO MARRAKECH 5 DAYS
          Day 1: Tangier – Chefchaouen:
It will be a 5-day tour of Morocco from Tangier through the most beautiful part of the country, which will start from the beautiful city of Tangier through the virgin Rif Mountains, which offer you an impressive combination of blue sea and mountains until you reach Tetouan, the pearl of the town with a strong Spanish influence and the beautiful Medina. In the afternoon, we will arrive in the beautiful blue city of Chefchaouen, where you will have the opportunity to walk around this unique city with its medina decorated with a combination of white and blue buildings, creative art shops, and the charming Uta el-Hammam square. We will take you to the hotel, where you will spend the night.
          Day 2: Chefchaouen –Volubilis – Meknes – Fes:
After breakfast, we will continue our 5-day route through Morocco from Tangier to visit the ancient Roman ruins of Volubilis, which are well preserved as they are recognized as a UNESCO World Heritage Site, and have many beautiful mosaics scattered, as well as gorgeous ancient columns and arches. After passing through the ruins, we will drive 30 km to visit one of the imperial cities, Meknes, the capital of the Ismailis, where we will visit Bab Al-Mansur, the Sahrij Suani pool, the royal stables, the attic and the mausoleum of Moulay Ismail. Then we head to Fez. Overnight at the riad/hotel.
          Day 3: Fes – Ifran – Ziz Valley – Merzouga, Sahara Desert:
After finishing breakfast, we will drive through Imuzzer to get to Ifran. The city is famous for its low temperatures, snow, and even Alpine-style houses. It is not surprising that it is called Moroccan Switzerland. Then we will continue our road to the cedar forest, where wild monkeys live. Feel free to feed them while walking through the woods. Later we will continue to Midelt, where we will have free time for lunch. Then we cross the Tizi-n-Tilgmt pass and drive along the Ziz Valley with scenic stops. Then, we head the road to the desert of Merzouga, You will be able to have a beautiful camel ride through the dunes, admire the majestic Sahara sunset, and continue to the camp, which is a combination of traditional nomad tents and luxury apartments. Where, you will enjoy the music of Berber drums, and dance by the campfire under the endless open starry sky. Dinner and overnight in the camp.
          Day 4: Merzouga – Rissani – Todgha Gorges – Dades Gorges.
After waking up for sunrise, beautiful sights, and an outdoor breakfast, you will have breakfast at the camp, pack your bags, and return on camels or a four-wheel drive, leaving the dunes behind. Back on the paved roads, we will head to Erfoud, known for its fossil mining. We will drive through Palm Grove and the Savannah Desert. We will stop for lunch, and then take a short walk around Todra Gorge. We head to our stop, Dades Gorge. We will visit the bends of the Tisdrin, where the American Cadillac car set a record and made an announcement. Dinner and overnight will be in a riad.
          Day 5: Dades Gorges – Ouarzazat – Ait Ben Haddou – Marrakech:
After breakfast, we will continue to Kalaa Maguna to visit the Valley of Roses, where locals offer rose products, perfumes, water, oil, and cosmetics. Then we cross the palm trees of Skoura and reach Ouarzazate, to visit the studios where famous films were shot, and the Kasbah of taourirt. We will continue our journey to discover the famous Kasbah of Ait Benhaddou. A fortified village recognized as a UNESCO World Heritage Site. In addition, Kasbah starred in many films, such as "Gladiator," "Alexander," "The Mummy"…. etc., as well as in TV series such as "Game of Thrones." After that, we will continue our way towards Marrakech, passing through the Tizi-N-Tichka pass and the High Atlas Mountains. We will stop for lunch on the road before
leaving for your accommodation in the riad in Marrakech. Terminate a 5-day tour of Morocco from Tangier.
5 days morocco DESERT tour details :
5 DAYS DESERT TOUR FROM TANGIER
Private 4×4 vehicle with A/C ( or minibus).
Feul.
Pick up and drop off service.
English / Spanish speaking driver.
Accomodations.
Dinner in boumalen and breakfast.
Dinner in Sahara desert with breakfast.
Camel ride for sunset or sunrise (a camel per each).
Lunches.
Drinks.
Enterance fees to monuments.
morocco tour itinerary from tangier
5 DAYS IN MOROCCO FROM TANGIER
5 DAYS FROM TANGIER TO MARRAKECH TESTIMONIALS
Morocco was amazing! We book with Morocco Itineraries and they took care of everything. From the car, itinerary, places to visit, hotels and restaurants. We spent 5 days from Tangier, Chefchaouen, Fes, the desert, and Marrakech. Our driver and guide, mustapha, was great! He was very knowledgeable, in english and spanish. He picked up us from the Airport and took us all over. Everything was easy and we really enjoyed our trip. Thank you Aziz, Mustapha and team! I highly recommend them!
BOOK YOUR 5 DAYS MOROCCO TOUR FROM TANGIER