3 days morocco tour from errachidia
3 DAYS desert TOUR FROM ERRACHIDIA
3 Days Morocco Tour from Errachidia.
=> ERRACHIDIA 3 DAYS DESERT TOUR
Embark on a captivating 3 days tour from Errachidia to Fes through the mesmerizing landscapes of Morocco. Departing from Errachidia, you'll venture into the heart of the Sahara Desert, arriving in Merzouga. This quaint village offers a surreal encounter with the desert, featuring camel treks into the dunes, unforgettable sunsets, and an overnight stay in traditional desert camps. From Merzouga, the route leads to Fes, a city steeped in history. Immerse yourself in the vibrant Fes medina, explore historic sites, and engage with the rich cultural tapestry that defines this ancient Moroccan city.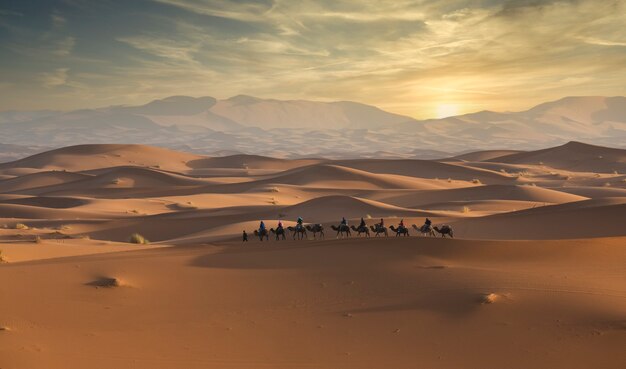 errachidia tour itinerary
3 MOROCCO TRIP FROM ERRACHIDIA
          DAY 1: ERRACHIDIA – MERZOUGA:
We will start our 3-day tour from Errachidia, and take a scenic drive through the beautiful palm groves and oasis of Ziz Valley, enjoy the stunning views of the valley, and capture some photos. Then, we will visit Erfoud's fossil workshops and shops. Learn about the fascinating fossil industry and see various ancient fossils on display. From there, we leave Erfoud and head to Merzouga, the gateway to the Sahara Desert. We will ride our camels through the golden dunes with magnificent views along the way, you will enjoy the sunset view on the top of the big dune. Then, you will spend the night in a luxury desert camp under the starlit sky with Berber music. Dinner and overnight will be in the camp.
          DAY 2: FULL DAY IN MERZOUGA:
We will wake up early to have the opportunity to see the sunrise and enjoy the landscape. After a hearty breakfast, we will ride our camels back to Merzouga, where our driver waits. Then, we will continue along the road, where we can see nomadic settlements and learn their secrets and manners. Our next stop will be at an observation point to contemplate the Erg Chebbi hole. There, we can also see the limits between Morocco and Algeria. We will then make our way to the village of Kamilia, originally from Mali, where we will have a relaxing tea and listen to a concert of Gnawa spiritual music. In the afternoon, we will go to your Hotel, and enjoy the sunset next to your accommodation.
          DAY 3: MERZOUGA – MIDELT – AZROU – IFRANE – FES:
After breakfast, we will start our last day in the north through the palm groves of Tafilalet, Aoufous, and Rich. We will stop in Midelt, in the heart of the Atlas, where you will have free time for lunch and rest. After lunch, we will continue our journey through Cedar Forest, where we can see wild monkeys. The next place we will visit is the town of Ifran, located on the northwest slope of the Middle Atlas at an altitude of 1,630 meters above water level. Its wide avenues, urban development with perfect cleanliness, gardens, green areas, and architecture make it look like a Swiss town. That's why it is called Moroccan Switzerland. Around 6 Pm we arrive in Fes and terminate the 3 days Morocco tour.
3 days tour itinerary from Errachidia
ERRACHIDIA TO FES 3 DAYS TOUR
Private 4×4 vehicle with A/C .
Fuel.
Pick up from hotel/riad or airport.
English/Spanish speaking driver.
Accommodations.
Camel ride for sunset (a camel per each).
Breakfasts.
Dinners.
Lunches.
Drinks.
Enterence fees to monuments.
3 days morocco tour itinerary
3 DAY TRIP FROM ERRACHIDIA TO FES
BOOK YOUR 3 DAYS MOROCCO TOUR FROM ERRACHIDIA